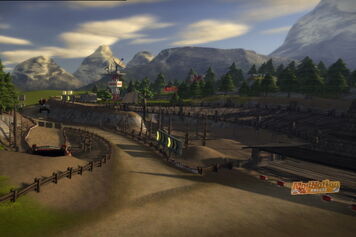 Wild Run
is a course in the game
ModNation Racers
; it is the pre-race of
The Range Tour
. It is a wilderness race track, and the second new course the player gets. This course does not feature an
Elite Mod
.
Tag must
learn how to avoid traps, how to activate triggers, and how to use the obstacles of the course to his advantage.
Base Best Lap: 00:50:000
Base Best Time: ?
Objectives
Edit
Advance: Finish 3rd or better
Rewards: Wild Run, Stickers (8), Button
Payoff: Finish 1st; Activate 3 Devastators
Rewards: Slip Stream Spoiler, Vintage Engine

Bonus: Finish 1st; Take down 3 opponents
Rewards: Mohawk Hair, Mouths (15)
A new rule was invented on this track; which states, that anyone who finishes last on this track will get an atomic wedgie by Biff Tradwell.
This track's internal name is "RURALFARM".
In the PSP version of this track, the Start Line has a black background where the MRC animation should be. This may indicate that the final version of the track is older than the other tracks.
Community content is available under
CC-BY-SA
unless otherwise noted.