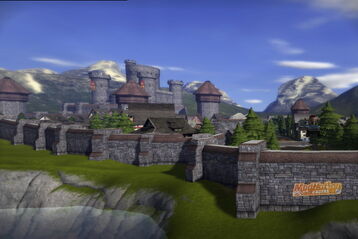 Village Run is a course in the game ModNation Racers. It is a track that is in a village, and is set in the Alpine Theme. It is the third course in the Home Tour. Tag will learn how to level up Weapons, perform Sideswipe attacks, and how to shield yourself. After racing the track, Tag's Mother and The Chief will inform him that they can't afford the constant repairs to his kart.
Base Best Lap: 0:43:00
Base Best Time: 2:16:00

Advance: Finish 3rd or Better
Rewards: Blank Stern Eye Stickers (14), Miniskirt Bottoms, Explorer Top

Payoff: Finish 1st; Sideswipe 1 opponent
Rewards: Radar Antenna, Vortex Spoiler

Bonus: Finish 1st; Sideswipe 3 opponents
Rewards: Stickers (7), Clown Nose Odds and Ends, Geometric Lightning Skin
When loading this course, the description is "Dodge, parry, and thrust through this medieval castle and enchanted forest". This could be a reference to the Looney Toons sketch "Robin Hood Daffy", in which Daffy Duck attempts an attack that includes the moves Dodge, Parry and Thrust.
This track's internal name is "VILLAGEJUMPS".
Community content is available under
CC-BY-SA
unless otherwise noted.