About me
[
]
Hello, all you race fans out there!! I'm Game Trooper!! I absolutly enjoy helping out wikis like this one. If you need any help, don't hesitate to post it on my talk page!! I'll get back to ya as soon as possible.
My Signatures

[

]
Game TrooperGiving it my all since 1992!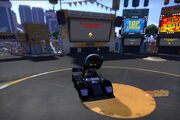 Other Wikis
[
]
I can be found on many other wikis.
They include:
Ratchet and Clank Fanfiction Wiki
and
My favorite pages
[
]
My Content

[

]
If you want to race, download, or see my stuff; search for GameTrooper7(My online ID). Also, check out havokbomb's content as well. To view my stuff, click here.
Mods
[
]
Game Trooper(It's Me!!)
Havok
Artic Trooper
ROBOSAPIEN
Nitro Man
Turbo Man
Slash Man
Enker
Break Man
Quint
Ballade
Ballade 2nd Form
Mercury
Saturn
Pluto
Rockman Shadow
Dr. Octogonopus
The Thief
Angela Cross
Shadow Man
Black Joe
Black Joe V2
Scaler
Smeagol
Zanta Claws
Cars
[
]
Neo Turbo
Artic Jeep
Havok's Battle Racer
Black Joe Racer GT
Sniper Joe Racer
Red Striker
Turbo Man's Car
Shinobi Master
Neo Hostility
Anti-Ecofriendly
ROBOSPAPIEN's Kart
The Emerald Torch
Shoop-Da-Whooper
Sonic Formula
Zanta's Sledge
Tracks
[
]
Nitro Rider
Abandon Missile Base
Avalanche Run
Mega Man X: Highway Stage
Robotic Turmoil
Underground Labortory
New Adobe Outpost
Underground Raceway
Sunset Harbor
Figure 8's
City Unlimited
Cranival Craze
Image Gallery
'More will be on the way! Check back later!'