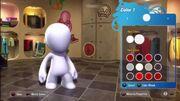 Mod Studio is the place where players create customized Mods in the ModNation Racers series. It is available in all games, and allows major customation of Mods, which can then be saved and used in Races.
Mod Studio allows players to change the Mod's Eyes, Ears, Nose, Headgear, clothing, add texture using Stickers and Skins, and also add three dimensional objects on a Mod's head. These items can also be colored how the user likes, and players can also change the material type of most 2D items.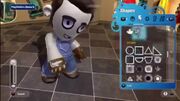 Main article: Stickers
Stickers are the decals players are able to place on Mods and Karts. There is a lot of different stickers available to use on Mods. Due to RAM limitations, players can only use up to forty-five unique stickers on a Mod, and the total amount of stickers that can be placed on a single Mod is three-hundred and fifty (350).
Community content is available under
CC-BY-SA
unless otherwise noted.