This is the development history of ModNation Racers.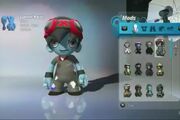 There are a lot of differences between the E3 version and the released version of ModNation Racers. Some of the older assets look like the assets on ModNation Racers for the PlayStation Portable.
The Mod Studio looks like the one in the final version of ModNation Racers PSP.

The HUD style matches the PSP version, but not later versions of ModNation Racers on PS3, and all versions of ModNation Racers: Road Trip.
There is text in the upper left corner of the screen, which is similar to the PSP version.
There is a different background, which doesn't appear to match to any other version of ModNation Racers, new or old.
The player went directly to Kart Studio from Mod Studio, without getting moved to any sort of a Create Station menu. This is impossible directly in the real game, as you will be in the Create Station menu when you exit the studio.
The HUD Style is exactly the same as the Mod Studio in this version.
The HUD in races is significantly different.

The HUD in races is in the same style of the Mod Studio in this version (and thus the same style in the PSP version).
The Position Bar is missing.
Both the Boost Bar and the Position Text are completely different.

The camera is different.
The HUD Style matches the Mod Studio's Style in this version.
Community content is available under
CC-BY-SA
unless otherwise noted.