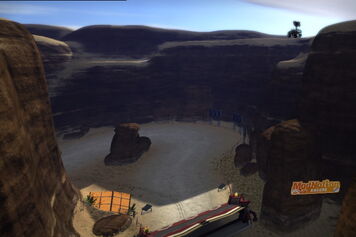 The Mayhem Tour is the second set of 4 tracks in Career Mode. The Mayhem Tour consists of the tracks Miner's Rift, Boardwalk, Island Dash, and Flaming Jumps.
Career Mode
Edit
In the Career Mode, Tag races against Elite Mods for the first time. Drillbit is the first Elite Mod that Tag meets, then he will race against Skidplate, Wildcard, and Hale.
Some other Mods that can be found in this tour include Gedski, Oz, Pip Cork, Joesiv, Kozak, The Soch, E Man, Prime Time, Spence-O-Matic, Lubker, and The Hall Moniter.
The Mayhem Tour is the first tour in which the player unlocks premade tracks.
Community content is available under
CC-BY-SA
unless otherwise noted.