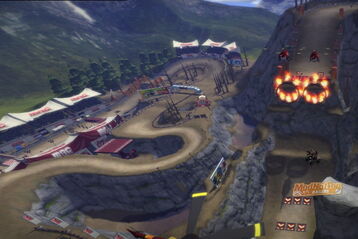 Launcher's Rush is a Track in the game ModNation Racers. This track is a stunt track, full of Launchers, fire ModBots, and fire traps. This alpine themed track is the last track of the Grim Tour. Diablo is the Elite Mod of the track. The track appears to be completely different in ModNation Racers for the PlayStation Portable.

Base Best Lap: ?
Base Best Time: ?
Advance: Finish 1st
Rewards: Launcher's Rush Track, Windmill Prop, Sail Boat 2 Prop, Speed Boat Prop, Fishing Boat Prop, Market Warehouse Prop, Clock Tower Prop, High Rise Building 1 Prop, High Rise Building 2 Prop, High Rise Building 3 Prop, High Rise Under Construction Prop
Payoff: Finish 1st; Use 3 unique jumps
Rewards: Harry, Harry's kart, Panthera Body, Weatherwane Antenna, Jet Engine Engine, 7 Spoke Wheel
Bonus: Finish 1st; Avoid Yellow Modbots
Rewards: Monster Voice, Road Rash Footwear, Road Rash Top, Road Rash Bottoms, Road Rash Handwear, Pinstripe Stickers (13)
Grudge Match: Defeat Diablo and his minions
Rewards: Diablo , Diablo 's Kart, Funk Hawk Hair,Cone Odd n' end, Meat Animal Skin
This track's internal name is "SPEEDSPRINGS".
Community content is available under
CC-BY-SA
unless otherwise noted.