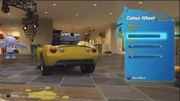 Kart Studio is one of the three Customization tools of the ModNation Racers series.
Kart Parts
Edit
Not much light has been shed on the Editor and its features, in fact the only feature shown in the screenshots is the Suspension Tweaker. But soon the beta was released and more features of the editor were revealed. Features available on the Beta were the options to add stickers, accessories and different motors ranging from realistic V8-looking engines to fantasy engines, such as a gerbil running in a wheel to power the Kart.
Kart Bodies
Edit
There are tens of Kart Bodies to choose from, such as muscle, exotic, racing, tuner, and 'silly' body types. Players are also able to change the color of the body. Because of these features Karts are amazingly customizable, everything on the kart can be changed and edited to suit the creators preference.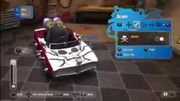 Main article: Stickers
Stickers are the decals players are able to place on Mods and Karts. There is a lot of different stickers available to use on Karts. Due to RAM limitations, players can only use up to forty-five unique stickers on a Karts, and the total amount of stickers that can be placed on a single Kart is three-hundred and fifty (350).
Community content is available under
CC-BY-SA
unless otherwise noted.