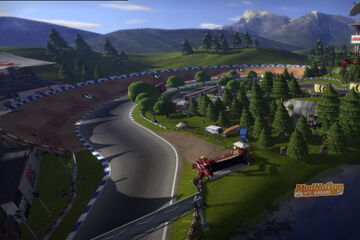 Drift Paradise is the final race in The Range Tour. The track is a snaking road full of chances to drift and ride the banked walls. Jez, the track champ and Elite Mod of the track, is said to be teaching Tag some advanced drifting and wallriding in this track.
Best Lap: ?
Best Time: ?
Advance: Finish 1st
Reward: Drift Paradise (Track), Oil Tower (Prop), Camel Spray (Prop), Desert Tower (Prop), Wall Gate (Prop), Wall Corner (Prop), Wall (Prop), Desert Ruin 6 (Prop), Mud Hut 3 (Prop), Dome Building (Prop), Oil Derrick (Prop)
Payoff: Finish 1st
Get 4,000 Wallride Points
Reward: Bruzer (Mod), Bruzer's Kart (Kart), Breakout (Body), High Tilt (Suspension), Flower Power (Wheels)

Bonus: Finish 1st
Get 140,000 Drift Points
Reward: Test Dummy (Handwear), Test Dummy (Bottoms), Test Dummy (Tops), Test Dummy (Footwear), Stale (Odds 'N Ends), Indie (Voice)
Grudge Match: Get higher score than Jez
Reward: Jez (Elite Mod), Jez's Kart (Elite Kart), Khon 1 (Sticker), Biker (Handwear), Shaded Helmet (Headgear)
Community content is available under
CC-BY-SA
unless otherwise noted.