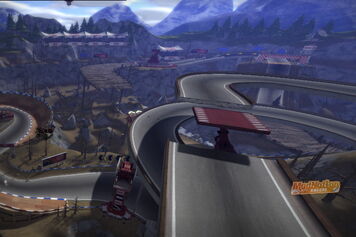 Crazy Crater is a Track in ModNation Racers. It is an enormous race track that is built inside the giant crater.
Career Mode
Edit
This is the final track to race in both the Grand Tour and the orignal ModNation Racers PS3 and PSP's career mode, in which Tag faces Espresso, the defending MRC champion, and ten of the eleven other Elite Mods with hopes of claiming the champion title.
Achievements
Edit
Advance: Finish 1st
Reward: Crazy Crater (Track), Temple 1 (Prop), Temple 2 (Prop), Temple 3 (Prop), Temple 6 (Prop), Tiki Head (Prop), Turtle Spray (Prop), Jungle Ruins Spray (Prop), Plane Wreck (Prop), Tiki Hut 9 (Prop), Crocodile Spray (Prop)
Payoff: Finish 1st
Get 15,000 Spin Points
Reward: Formula (Body), Open Wheel (Engine), Coffee Cup (Hood), Racing (Steering Wheel), Open Wheel (Suspension)
Bonus: Finish 1st
Get 160,000 Drift Points
Reward: Espresso (Elite Mod), Espresso's Kart (Elite Kart), Magnet (Odds 'N Ends), Aero Helmet (Headgear), Medal (Headgear), Clown (Bottoms), Quick Workout (Top)
Token Locations
Edit
Token One
Edit
Token Two
Edit
Token Three
Edit
Token Four
Edit
Token Five
Edit
This track's internal name is "MODFINALE". This is also the name of the PSP version of this track, suggesting that it was renamed during development.
Community content is available under
CC-BY-SA
unless otherwise noted.