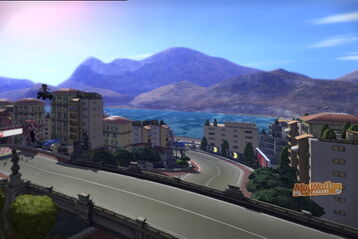 Boardwalk is a Track in the game ModNation Racers. It is the second race in the Mayhem Tour. It is a seaside port. People don't like the races here cause they can't drive home from work. Skidplate appears as the Elite Mod for this course.
Base Best Lap: ?
Base Best Time: ?
Advance: Finish 3rd or better
Rewards: Checker 1 (Sticker), Predator 1 (Mouth), Tack (Odds 'N Ends)
Payoff: Finish 1st
Get 4,000 Max Speed Points
Rewards: Orca (Body), Low Drop (Suspension), Hi Tek (Wheels)
Bonus: Finish 1st
Take down Skidplate
Rewards: Stars (Headgear), Puddle (Prop), Pit Row Garage (Prop), Overalls (Bottoms)

Grudge Match: Finish 1st (against his thugs)
Rewards: Skidplate (Elite Mod), Skidplate's Kart (Elite Kart), Digital 10 (Eyes), Space Helmet (Headgear), Cell (Geometric)
Community content is available under
CC-BY-SA
unless otherwise noted.